Last night we had NO KIDS. NO BABY!!!!!! Want to know what is unfair? I still woke up every 1-2 hours. I knew I should have taken a sleeping pill!!!


The reason we had no kids last night was because it was the annual party for Jason's company. We had a really great time. I love it just because it gives me a reason to dress up (stay at home moms love to have a reason).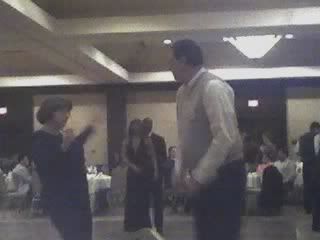 We had more fun watching all of the older people dance (after a few drinks) than anything else. The stuffiest engineer turns into a wiggle machine with the right band and a few glasses of wine. HILARIOUS! (picture taken with camera on phone...bad quality!)



It was nice just to have time out with my hubby! Well all, I guess I better go get ready for church!